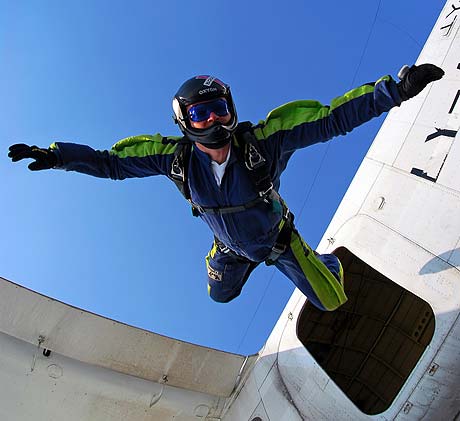 I'm going skydiving Friday morning. It'll be my first time, and unquestionably an incredible experience. But the idea of this venture into the sky has brought out some key points to how I want to live my life, and to what I believe.
I thought about living on the edge, tempting fate per se, after Jeseca died. I don't think about that anymore. Instead, I want to show the boys that there is absolutely nothing to fear in this life. That, despite tragedy, life can still be fun, exciting, and full of joy.
Now, my mom and dad have both expressed that I need to think about the boys. After all, they can't lose their dad, too. I get that. And believe me, that has crossed my mind. But I believe in an awesome God. If He has truly ordained my every breath, and if He knows the very moment I will die and go to be with Him, what have I to fear? If Friday is the day, then it really doesn't matter what I do, does it?
I'm confident that He has much more for me to do here; to finish the job Jeseca started in the hearts of our two wonderful, God-fearing children. I want to teach them to live free. I want them to experience every emotion; every valley and peak so they can share those experiences and emotions with others and point them to Jesus.
I recently read a story about Stonewall Jackson. It described the general as a devout follower of Christ; passionate in every area of his life; and fearless. His soldiers asked him why he was so calm in battle. "My religious belief teaches me to feel as safe in battle as in bed," he replied. "God has fixed the time for my death. I do not concern myself about that, but to be always ready, no matter when it may overtake me. That is the way all men should live, and then all would be equally brave."
I want to live like that. God wants me to live like that. So Friday, I'm gonna jump out of an airplane from 13,000 feet. God be glorified. JG
From his career in professional baseball to an attempt at professional golf and the tragic loss of his wife, Jon Graves is on the journey of his life.
NEVER STOP EVOLVING.